Ladder Features
Tournamatch is a ladder and tournament WordPress plugin for eSports websites and online gaming leagues.
---
Three ranking methods
Support three different ladder ranking methods including ELO (1600-initial), Points (for wins/losses/draws), and Tournamatch's unique competition-encouraging 'Rung Up' algorithm.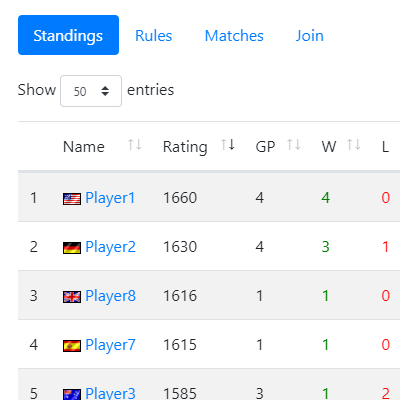 Challenges
Users can challenge other players or team. Each challenge may be accepted or denied.
Three play styles
Ladders support Open-Play, Challenge only, or both.
Standings
Ladder standings page displays wins, losses, win percent, rating, rank, last match result, streak, and days idle statistics.
Restricted events
Ladders may be configured to require an admin to approve new players or teams.
Fully customizable
Admins can add, edit, and delete ladders; can manually signup players or teams; and can report matches manually if desired.
Tournament integration
Supports launching a tournament from current ladder standings.