Tournament Features
Tournamatch is a ladder and tournament WordPress plugin for eSports websites and online gaming leagues.
---
Double or single elimination
Supports double elimination brackets or single elimination brackets. Bracket seeds are highlighted throughout rounds and you may optionally enable a semi-finals loser match.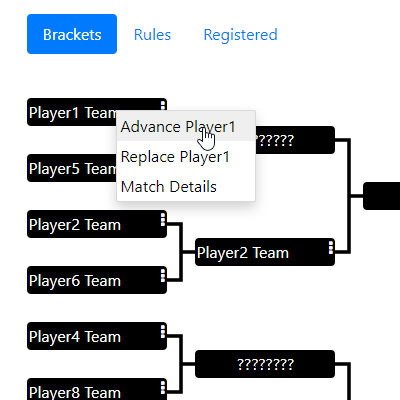 Restricted events
Tournaments may be configured to require an admin to approve new players or teams. Great for requiring entry fees!
Flexible sizing
You may configure tournaments to start with a set number of entrants (4, 8, 16, 32, etc...) or a variable number so as many players can signup before a tournament is scheduled to being as possible.
Check-Ins
Check-Ins are supported and require players or teams to check-in prior to being seeded if enabled.
Fully customizable
Admins can add, edit, start, end, and delete tournaments; can manually signup players or teams; and can report matches manually if desired.
First round byes
All byes are rewarded in the first round if necessary.
Auto-Start
Tournaments may be configured to start automatically by schedule or after being filled.
Ladder integration
Supports launching a tournament from current ladder standings.