Website Features
Tournamatch is a ladder and tournament WordPress plugin for eSports websites and online gaming leagues.
---
Game management
Advanced game management that customizes Tournamatch for any competition, including non-video games like billiards, board games, and other recreational sports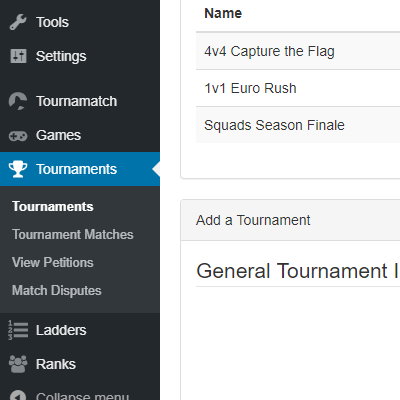 Multilingual
Includes 23 langage packs and can be easily localized for any language not included.
Map management
Admins can add, edit, and delete maps. Admins can also combine maps into map groups, allowing staff to easily assign multiple maps to a single game type.
Anti-Cheat support
IP addresses are tracked for each match reported enabling admins to verify match validity
Blocks
Includes blocks for player management, recent matches, challenges, recent teams, and navigation.
Integration
Seamlessly integrates with your existing CMS. No double account registrations or double sign-ins required.
Administration
Feature rich administration panel allows complete customization without any coding knowledge.