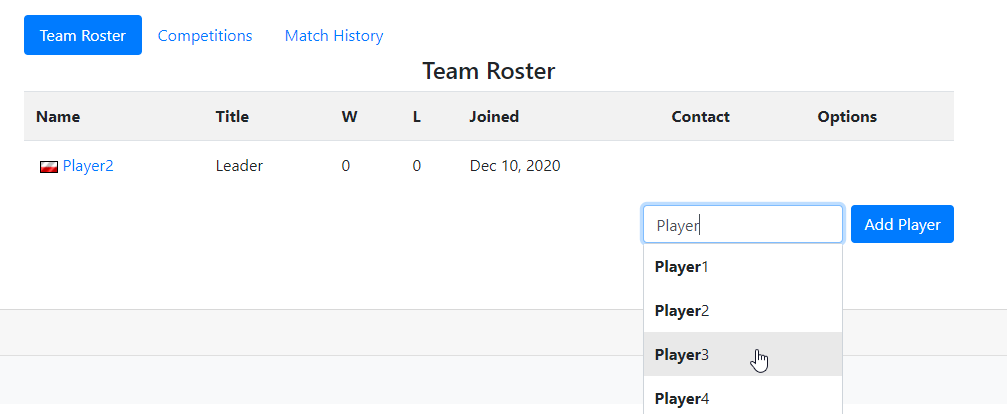 Version 3.19 Released
Tournamatch version 3.19 is now available.
Highlights
Improved match management
Improved security of i18n/i10n translations
Added ability for an admin to add players to teams
Added ability for admin to add players or teams to tournaments
Reduced plugin size
Improved Match Management
Match management for users now requires fewer pages and clicks to save and confirm. In addition, the match report and confirm pages for ladders and tournaments are now identical. Tournaments now also have the ability to rate the opponent, report team match players, report scores, and attach files.
Improved Security for i18n/i10n
All i18n translations have been properly escaped in version 3.19. This security vulnerability is only relevant if you use a Tournamatch language translation file written by another [nefarious] user.
Admin Team Management
This update includes a new ability for admins to manually add players to teams. To do this, you must be logged in as admin and view the team profile page for whichever team you wish to modify. The input box to enter a player name is located below the team roster table.
Admin Tournament Registration
Another new admin feature in this update is the ability for admins to manually add players or teams to an event. This may be done via the backend Tournament Administration screen. Click on the users icon on the line corresponding to the tournament for which you wish to add competitors.
Reduced Plugin Size
One of the primary focuses this year was to remove all third-party source code dependencies. We finally achieved this milestone in version 3.19.0. As a result, the plugin size is approximately 58% smaller than before. This change isn't just about download size. Removing third party code libraries means less exposure to potential code vulnerabilities in packages not maintained by the WordPress community.