Individual Team Record
There is no "I" in team. You've probably heard that cliché so many times you're preparing to strike that back button if this turns into another retina-detaching eye-rolling message. This is not one of those messages. No, there is no "I" in team, but there is an "I" in Individuals Team Record. The version 2.18 release added a new feature that permits you to track the career and team records separately for individuals.
Before this update, an individual's record was solely determined by his or her player's performance. When enabled, you may record the individuals who participated in a team match. The player's overall record is displayed separate his single's ladder record on his profile: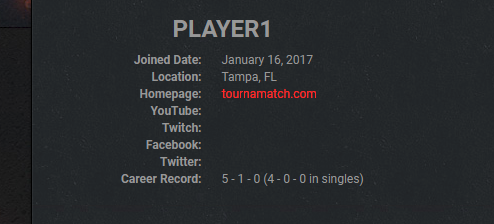 Over on the team profile page, you can also view the records of members on the roster. Note that this will display the player's record relevant to that team's competition only:

This setting is useful for communities where you permit a team to have "extras" on their roster and encourage competitors to reuse existing teams. You can enable or disable this feature in the Ladder Settings section in Tournamatch Admin > General Settings:

The setting is disabled by default.