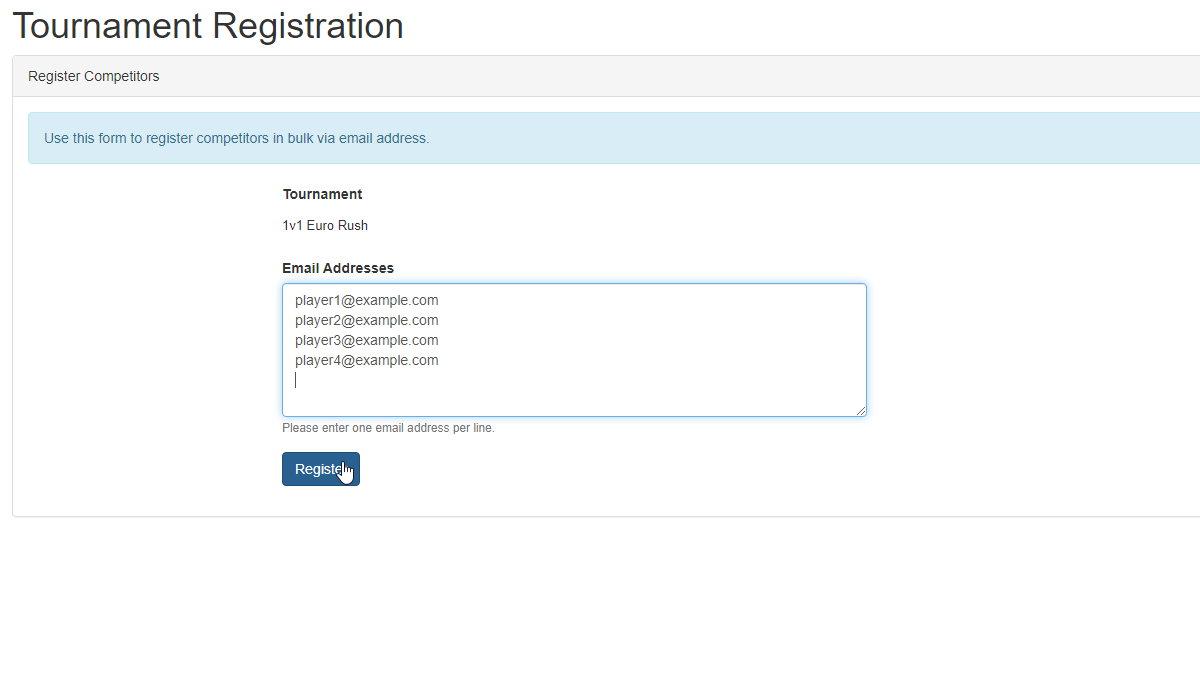 Version 3.18 Released
Tournamatch version 3.18 is now available.
Highlights
New admin bulk registration
New leave ladder option for users
Edit profile password fields
FontAwesome upgraded to 5
Numerous bug fixes
New Admin Bulk Registration
You may now populate tournaments in bulk from a list of email addresses using the new admin bulk registration feature. This is a tremendously helpful feature for admins running fully-managed events. We should have a comprehensive guide for setting up this type of solution in the days to come.
New Leave Ladder Option for Users
When enabled, users may now leave a ladder. A user would previously have to request an admin to remove them from a ladder. Keep in mind that this will erase any ladder standings data associated with this user. Allowing users to leave may result in standings reset abuse; however, we added this feature anyways at the request of many customers. The option is disabled by default.
Edit Profile Password Fields
Users now never need to touch the WordPress user dashboard. One of the best parts about WordPress is how easy it is to completely transform the appearance of a website using templates. Unfortunately, templates don't typically touch the WordPress Dashboard section. Before version 3.18, a user would previously have to leave the "styled" website and visit the user dashboard to reset his or her password. This is no longer necessary because edit profile screen now also includes the edit password field.
FontAwesome Upgraded to 5
Front end screens now use FontAwesome 5. FontAwesome 5 supports thousands more icons than version 4, including countless brand icons. This change should be mostly transparent to your community. The biggest immediate advantage is that site admins now have more branded icons for custom player profile icons.
Bug Fixes
A big part of this release was focused on bug fixing. Tournamatch should work as expected – better than it ever has! Please open a support ticket or shoot us an email if you ever run into any issues.