Report
Introduction
The report dashboard is how users on your website may manage their own results, freeing site administrators to do more important tasks than record results. Using this page, users may confirm match results that other competitors have reported and report their own match results.
Views
Dashboard
The main report dashboard is where users manage all of their match results. There are four main sections: Confirm Results, Your Reported Results, Your Scheduled Matches, and Report Ladder Results.
Confirm Results
This section displays all matches other competitors have reported that include you. Matches from ladder and tournament, player or team, competitions appear here. Each line in the confirm results table displays who reported the match, the ladder or tournament event name, the result, and buttons to confirm or dispute the result. Users should confirm matches here if correct, or dispute the result if it's inaccurate.
Confirmed results will automatically update the ladder or tournament with the outcome. Disputed results are suspended until an admin resolves the dispute.
Your Reported Results
This section displays all matches you have reported that are currently waiting for others to confirm. Each line in the table displays the event type and name, the result you reported, and a button to Delete the reported result.
Your Scheduled Matches
This section displays all matches that have been scheduled and not yet reported by you or your opponent. Scheduled matches include matches from tournaments and matches that have been created after accepting a challenge. Once a match has been reported, it no longer appears in this section.
Report Ladder Results
This drop down permits you to select a ladder to begin reporting a new match result. This section is not displayed if Open Play is disabled.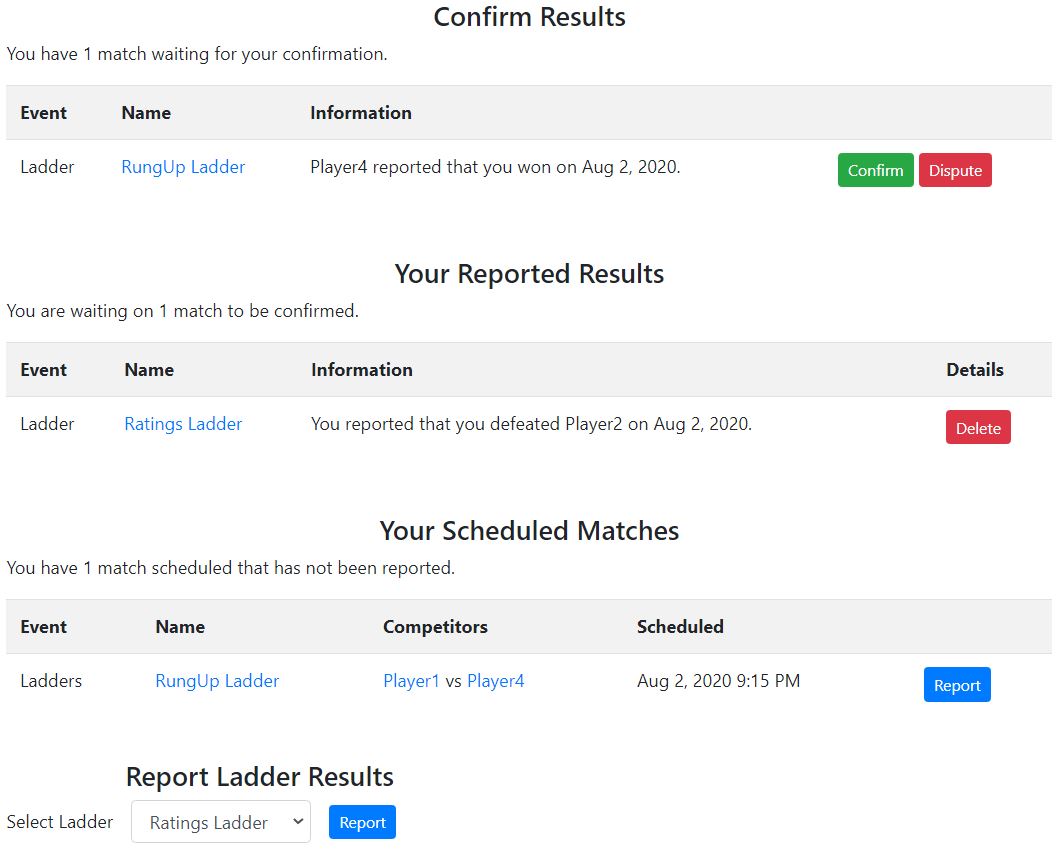 Report Match
Reporting a Ladder Match
To report a scheduled ladder match, users should click the Report button in the scheduled matches table. On the Report Match screen, the ladder and opponent is already selected. Five stars appear for competitors to optional rate their opponent if Ratings is enabled. A file browse select input is also available if Attachments is enabled. Two input boxes appear for entering the score from the match if this ladder uses score reporting, and if Report Team Match Players is enabled and this is a team vs team ladder, a checkbox appears for each member of the team. Finally, competitors may enter any comments from the match in the Comment input box.